Skip Navigation
Website Accessibility
🚨 SAVE BIG on Regular Width Fabric this Month! - Get 20% OFF 🚨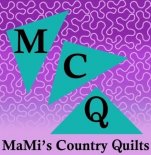 STORE HOURS

Mon 9:30am - 5:00pm


Tue 9:30am - 5:00pm




Wed 9:30am - 8:00pm




Thu 9:30am - 5:00pm




Fri 9:30am - 5:00pm


Sat by appointment only
Sun closed

1 (306) 467-4453


Simply Amazing - MaMi's Country Quilts
VIRTUAL CLASS RECOMMEND - Simply-A-Maze-ing Tutorial
Get lost in this stunning 3D quilt Design! Introducing a MaMi's original pattern, Simply-A-Maze-ing. This pattern was designed by Meeka for someone who loves a good challenge, mentally and physically! Our Simply-A-Maze-ing quilt is a SOLVEABLE maze that will keep the whole family busy! If you are an Advanced quilter and you are looking for a challenge, than this pattern is for you. Follow along with our Virtual Class on our Vimeo platform to help find your way as you put this masterpiece together.
Quilt Size: 98" x 98"