Skip Navigation
Website Accessibility
🚨 SAVE BIG on Widebacks this Month! - Get 20% OFF 🚨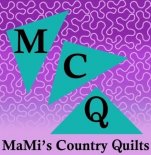 STORE HOURS

Mon 9:30am - 5:00pm


Tue 9:30am - 5:00pm




Wed 9:30am - 8:00pm




Thu 9:30am - 5:00pm




Fri 9:30am - 5:00pm


Sat by appointment only
Sun closed

1 (306) 467-4453


Adrenalin Rush
Precut applique or silhouettes are laser cut fabric that have pre-applied fusible webbing placed on the back of each shape. The time saved by purchasing our precut applique/silhouettes with the fusible webbing already done is huge.

Simply remove the paper backing and place the applique/silhouettes design in the desired position on your quilt or current project and set your iron to the cotton setting. Iron the applique for approximately 3 seconds and the shape is now bonded to your quilt.

It could not be any simpler! Using our pre-fused applique will allow you to easily create an awe inspiring project with almost instant gratification. Can be used on anything from fabric to walls, windows and wood. This is a easy project even for a beginning quilter or crafter, but challenging enough for seasoned quilter or crafter.