Skip Navigation
Website Accessibility
🚨 SAVE BIG on Widebacks this Month! - Get 20% OFF 🚨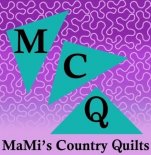 STORE HOURS

Mon 9:30am - 5:00pm


Tue 9:30am - 5:00pm




Wed 9:30am - 8:00pm




Thu 9:30am - 5:00pm




Fri 9:30am - 5:00pm


Sat by appointment only
Sun closed

1 (306) 467-4453


Discover Your Next Project
Discover your next project with our massive selection of quilting patterns! We've got Panel Quilting patterns, FQ patterns, Appliqué patterns, Paper Piecing patterns, Traditional Quilting patterns etc. Search our Judy Niemeyer Patterns, Jay Birds Collection, Elizabeth Hartman Collection, Stripology Collection, Highway 10 Designs and many more!
Check out our wide variety of MaMi's Country Quilts Original Patterns!

New to quilting? Looking for a nice and simple project to start with? Try starting with our MCQ Twist 'n' Turn pattern!

Looking for bag patterns? We've got those too!

Can't find something your looking for? Contact us and we'll see if we can get it for you!
Showing 61 - 90 of results