Skip Navigation
Website Accessibility
🚨 SAVE BIG on Widebacks this Month! - Get 20% OFF 🚨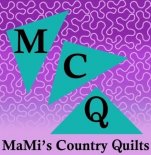 STORE HOURS

Mon 9:30am - 5:00pm


Tue 9:30am - 5:00pm




Wed 9:30am - 8:00pm




Thu 9:30am - 5:00pm




Fri 9:30am - 5:00pm


Sat by appointment only
Sun closed

1 (306) 467-4453


Here you can find ideas of what MaMi's Original Patterns could look like in different fabrics!

Not sure where to start? Find inspiration as you scroll through the different mock-ups we have created with our very own patterns. We know sometimes it can be hard to visualize what your next project could look like. So we've created some inspiration using our newest and favorite fabric collections.
Like what you see? Pick up one of our kits HERE
Can't find something? Contact us and we'll see if we can get it for you!