Skip Navigation
Website Accessibility
🚨 SAVE BIG on Regular Width Fabric this Month! - Get 20% OFF 🚨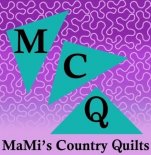 STORE HOURS

Mon 9:30am - 5:00pm


Tue 9:30am - 5:00pm


Wed 9:30am - 8:00pm


Thu 9:30am - 5:00pm




Fri 9:30am - 5:00pm


Sat by appointment only
Sun closed

1 (306) 467-4453


Home of the BIG shop in a small town
MaMi's Country Quilts - Duck Lake, SK


Welcome to MCQ! The home of the BIG shop in a small town. Here you'll find all your quilting essentials to get you started with your first quilting project or challenge yourself with your next project! MaMi's Country Quilts is also home to Michèle's Longarm Services. Pop over to our Longarm Services page to get more on the info!


Have you ever wanted to learn how to Paper Piece?! We promise it's not as hard as it might seam 😉 Learn how to Paper Piece using

Judy Niemeyer's patterns

and sew with ease once you learn Michèle's techniques!

Watch our Youtube page we have many classes moving there, with even more planned to be filmed soon.
You'll get hands-on instructions from Michèle and the best part...
You can play, pause and rewind as many times as you need!

Michèle Fiolleau -

Judy Niemeyer Certified Instructor
Join us on Youtube
MaMi's Quilting Retreats
Current Retreat Dates



Grab your friends and come on out, check calendar for dates
Get 20% off F

abric
For the month of December save on all regular width batiks, cottons, and flannel
Scoop up one of our newest patterns! We have KITS in almost every pattern and if we don't have what you are looking for, we can kit something up for you... for FREE! Check them out HERE
Get access to the best fabrics and quilting supplies.
Discover the biggest selection of Batiks in Canada and the largest supplies of notions!

We carry only the absolute best fabrics & quilting supplies from Creative Grids, Fons & Porter, Olfa, Oliso, Baby Lock, Northcott, Hoffman, Free Spirit, Moda, Elizabeth Hartman, and much more!